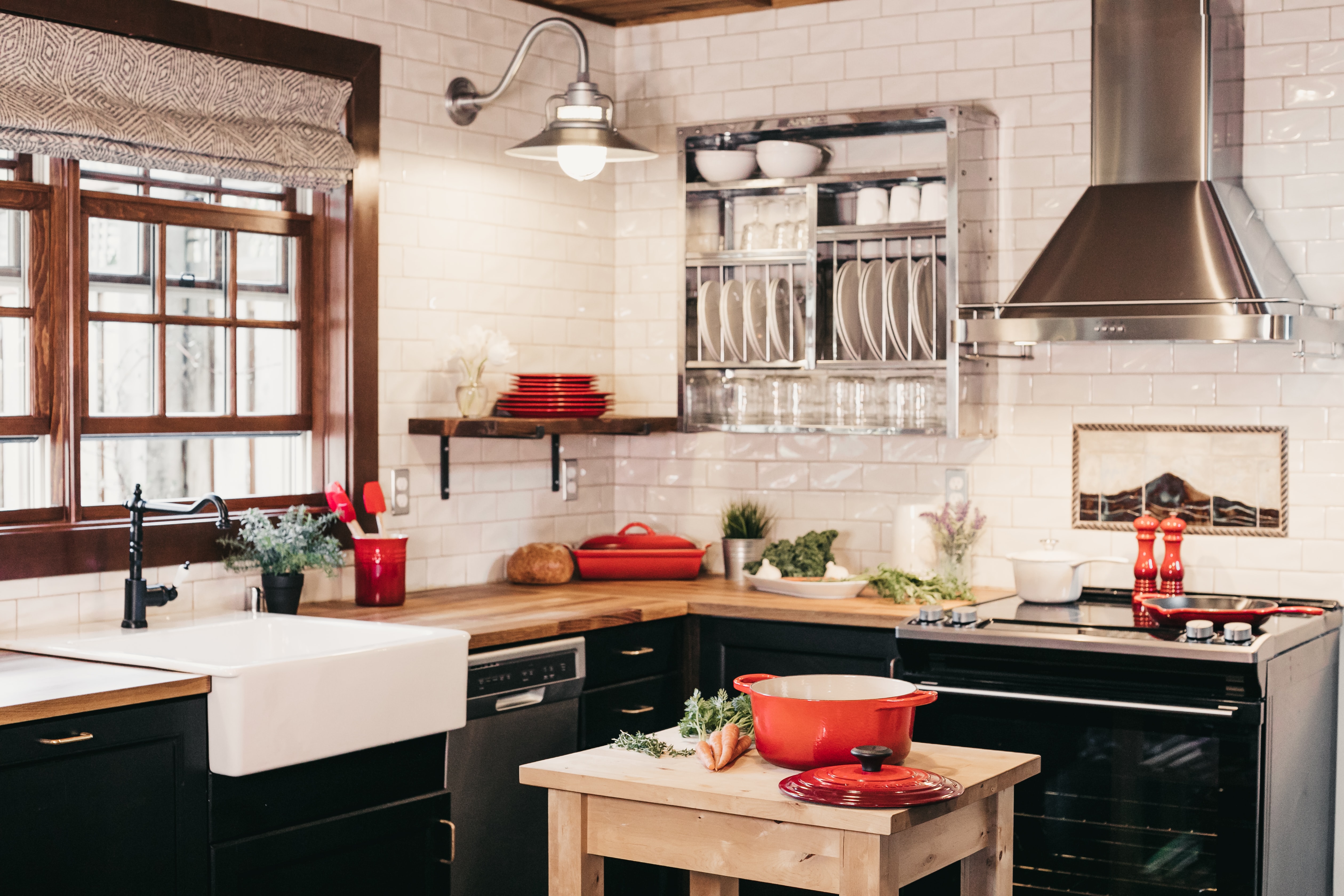 The past year has been full of renovations, big and small, so there have been a few more changes in trends than normal. 2020 was all about finding what works best for homes and how to make the homeowner's life easier and stress-free and 2021 is all about implementing those updates
Here are some of the major components of a kitchen in 2021.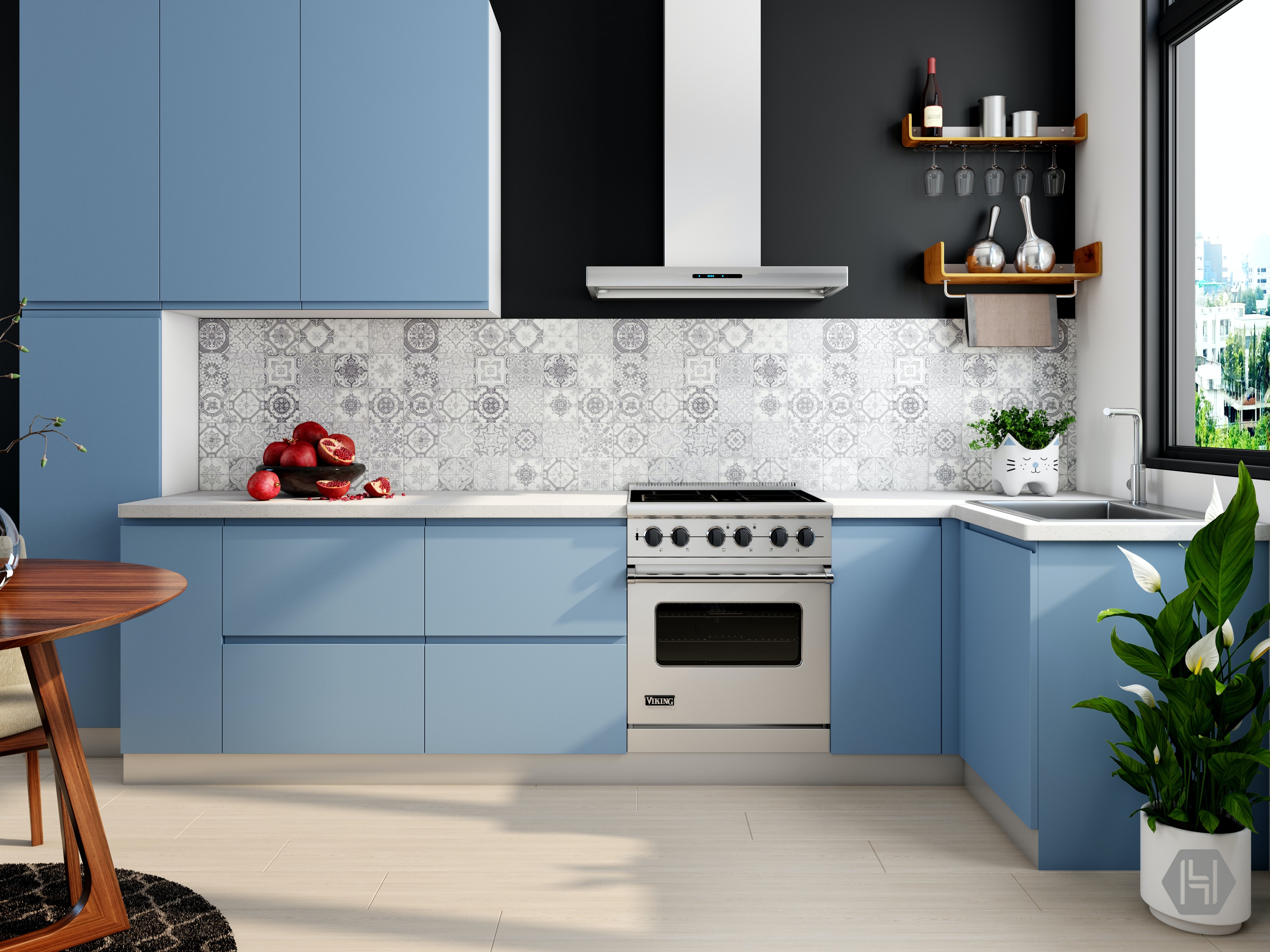 Seamless & Open Layouts
Everyone is looking for efficient spaces that flow seamlessly into the next room and L-shaped kitchens are perfect for that. They allow those in the kitchen to hear what is going on in the living without having to stop what they are doing.
In addition to the L-shape kitchen, larger islands are being added. They provide more prep space, storage, and more room to spread out.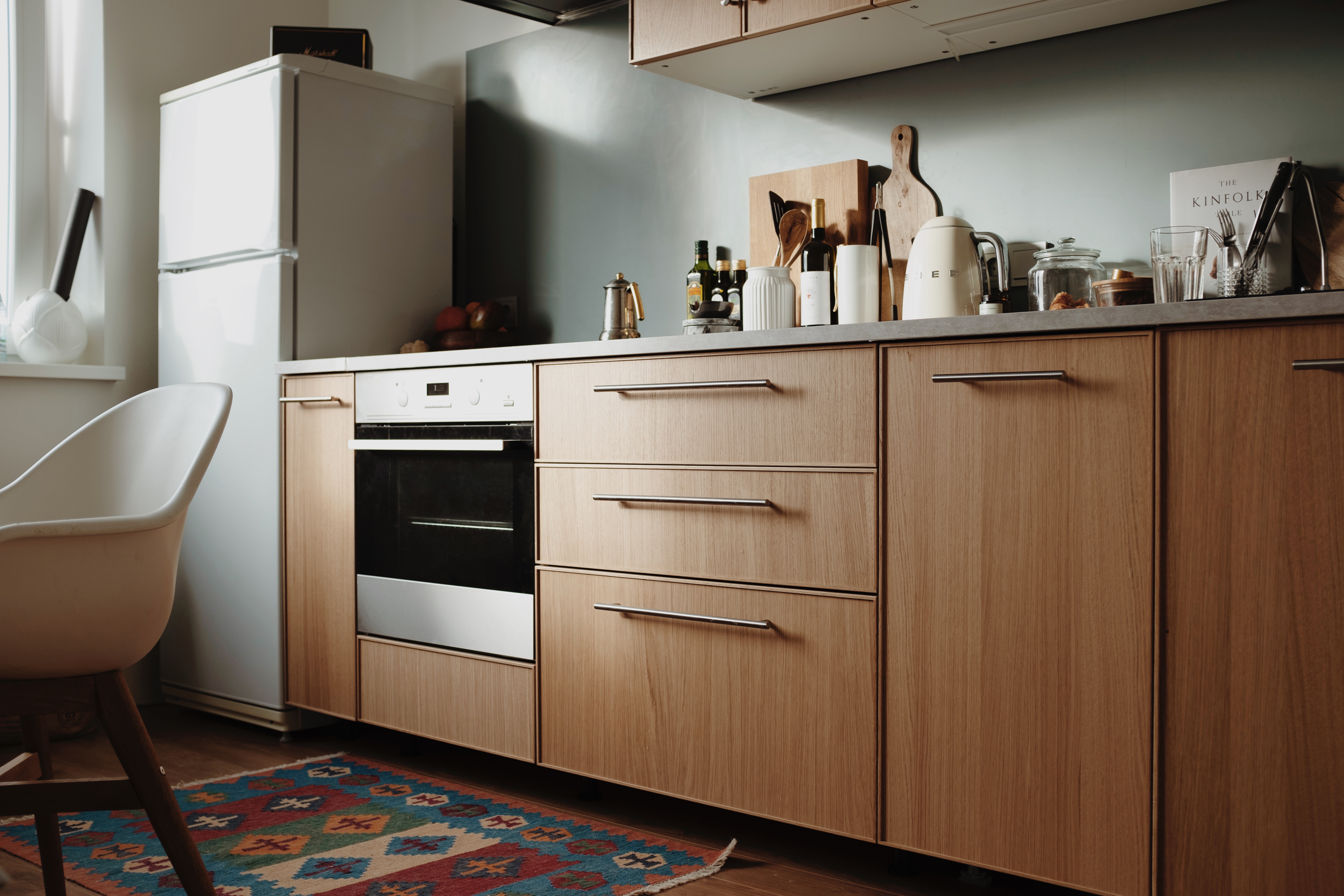 Cabinetry
Wood cabinetry is becoming popular again and it doesn't always have to be finished. Natural woods (or natural-looking stains) are making kitchens comforting and inviting. Wood cabinets are also durable and organic, and pair well with about any other surface, paint, or finish.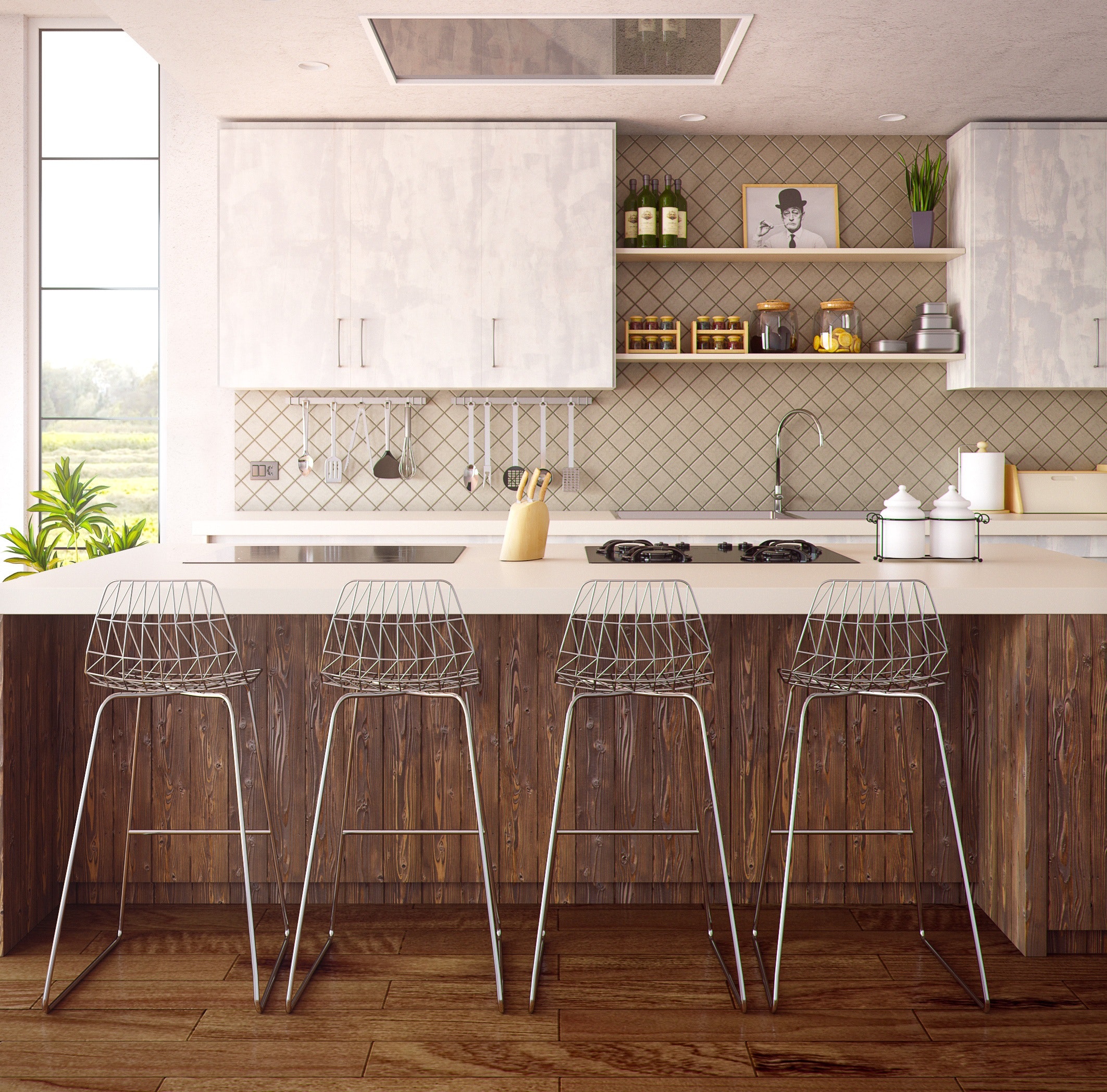 Upper Cabinets vs Shelving
There will be a mix of upper cabinets and open shelving within the kitchen. We've seen designers encourage upper cabinets and we've seen designers encourage open shelving. Open shelving works great for those who want to stylize them, can keep up with dusting, and don't need the extra storage space, but for some, they're just not practical. So, as not to compromise function over form, upper cabinets will be utilized the most in a space, but open shelving will be utilized in smaller sections.
Another option is to utilize glass doors on some of the cabinetry within a kitchen. This allows you to stylize the shelves without having the dust or constantly clean the items within.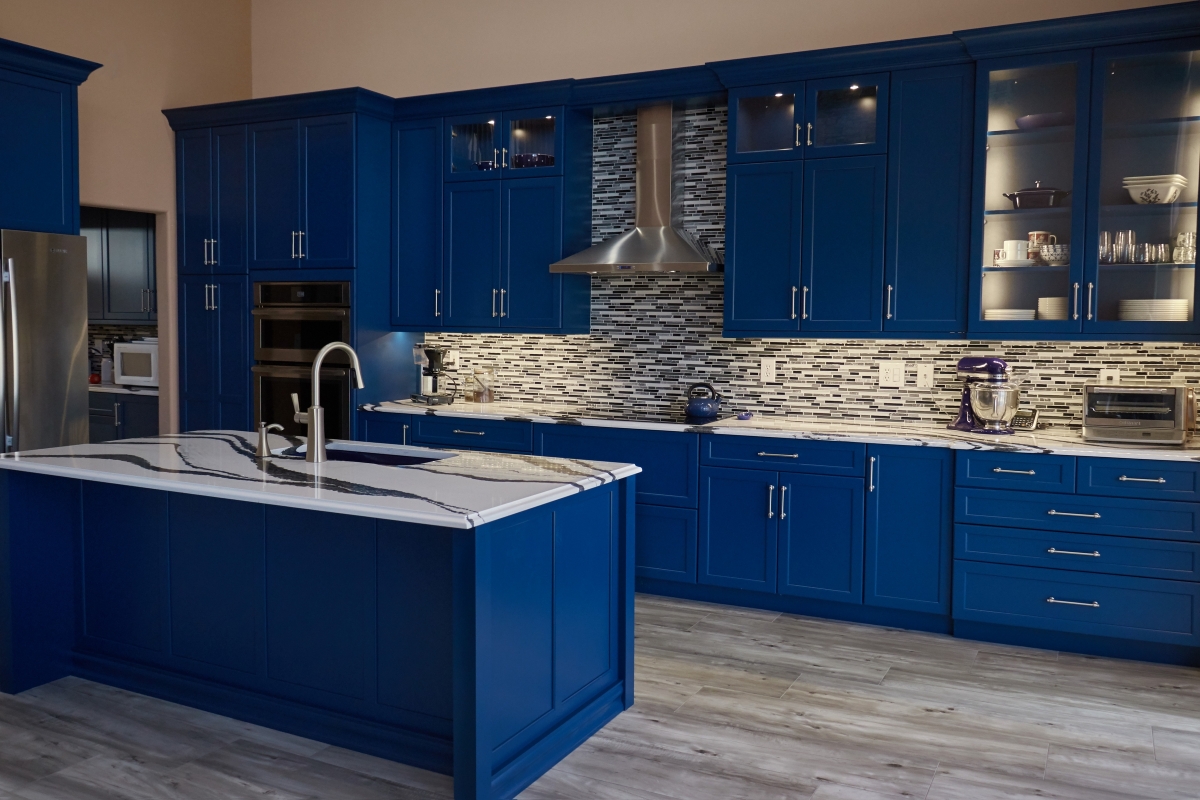 Color Trends
White cabinets will always be popular, but there's been a shift towards more color for walls and cabinets. Green will be one of the most popular colors. It can be used as a bright statement or a subtle neutral to ground the room and pair other colors with.
Another color trend we see being used a lot is dark and moody. A moody kitchen might sound a bit scary to some, but when it is used properly, dark kitchens can be a showstopper. If you're hesitant about using a straight black, try using a dark blue or green.
Two-tone cabinets and color variations are still going to be a huge player in kitchen design. A lot of times upper cabinets will be a different color than the base or the island will be a different color to add some contrast or interest to the kitchen.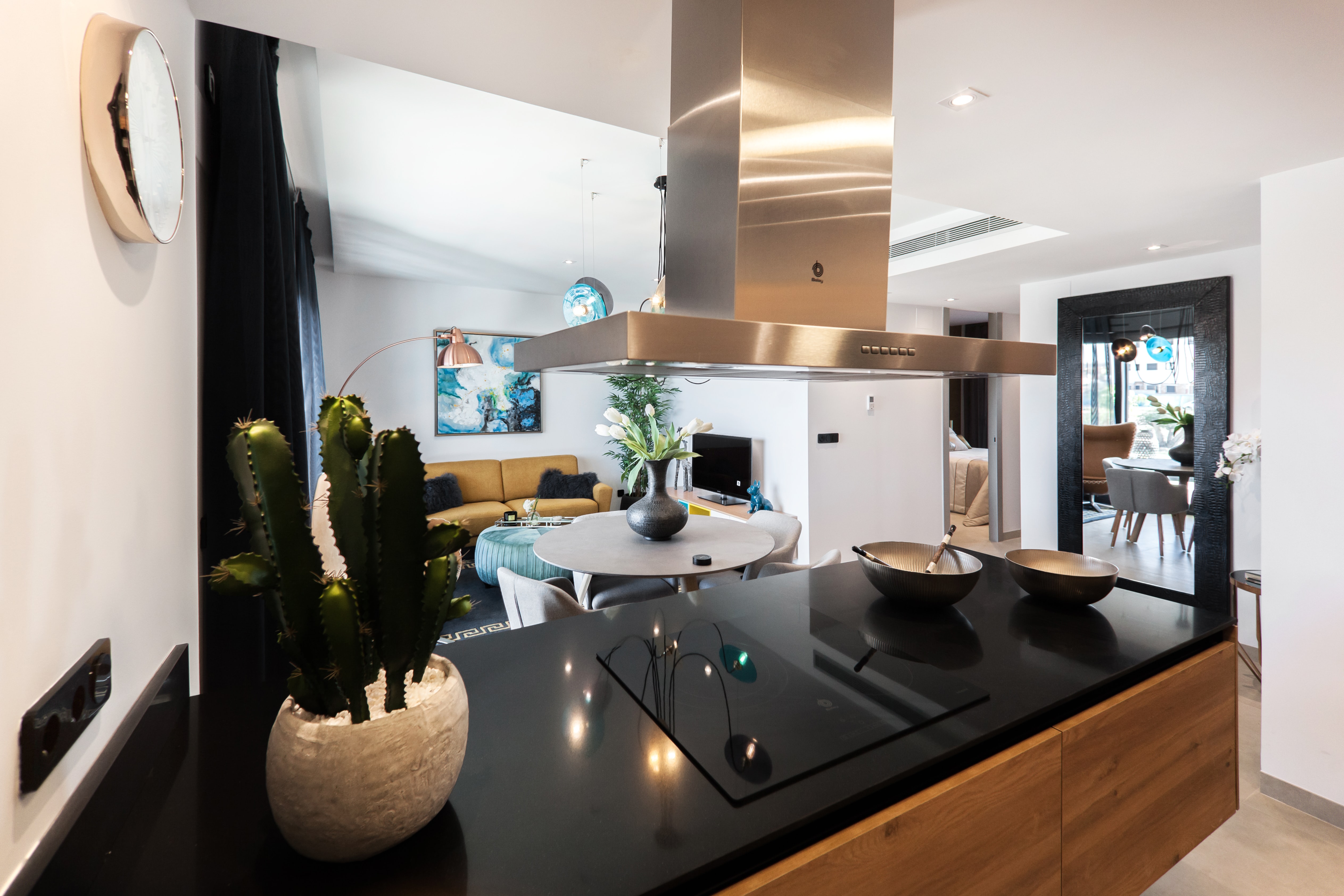 Surfaces
Paint colors aren't the only thing leaning towards the dark side, kitchen countertops are also being switched to darker materials. Whether that's a stone or a darker wood, these surfaces are much more forgiving than white and can add great contrast to the space, depending on the other colors and materials.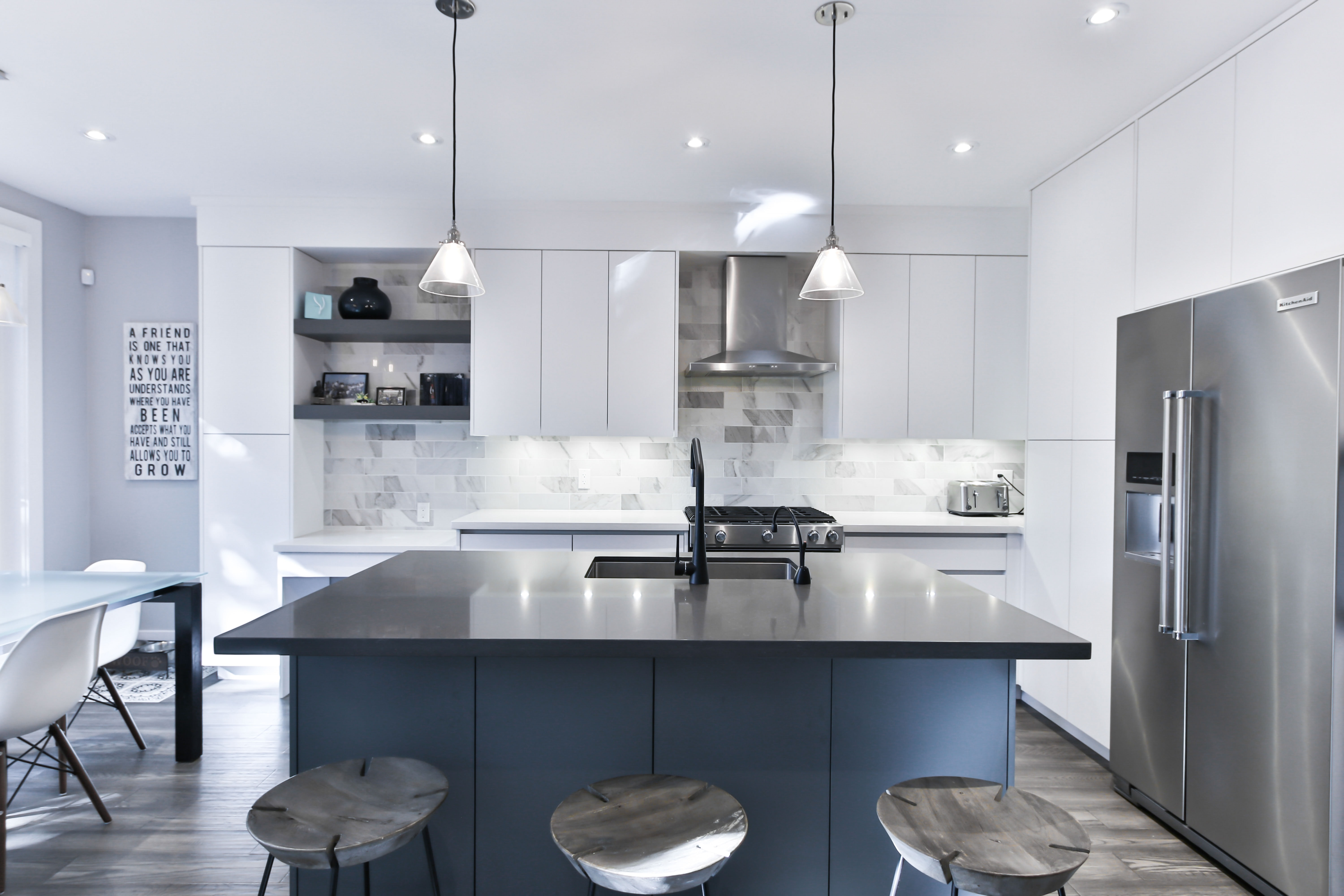 Finishes
Cabinetry is becoming the focus in the kitchen; therefore, shiny, and overstated fixtures are out, and matte or brushed finishes are in. We've seen them over the years, but they will be big this year. They pair well with almost everything and are easy to maintain.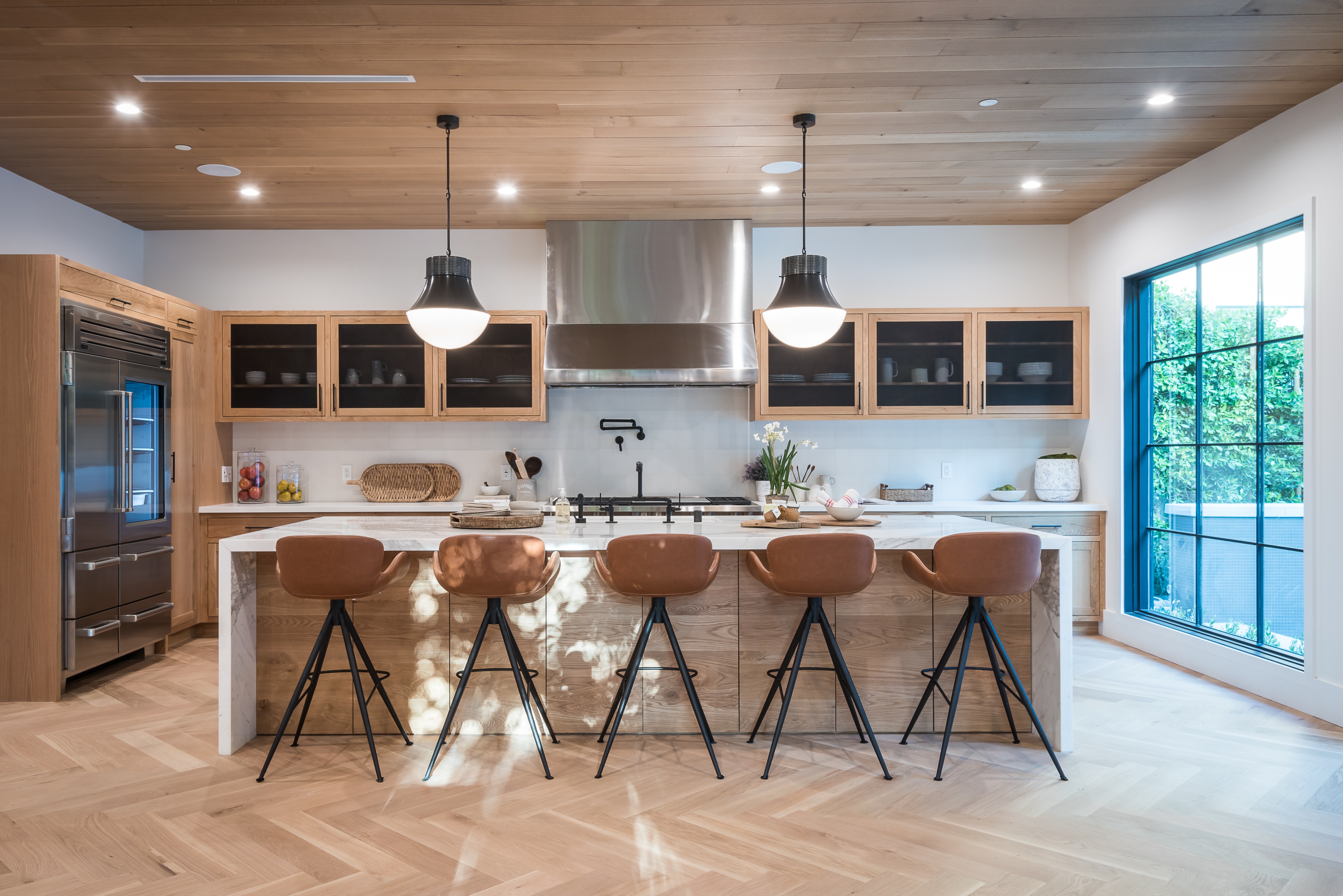 Lighting
If you haven't already guessed it, natural light in the kitchen is going to be huge! Natural light makes a space feel inviting and boosts the mood. This means larger windows will be added or even patio doors.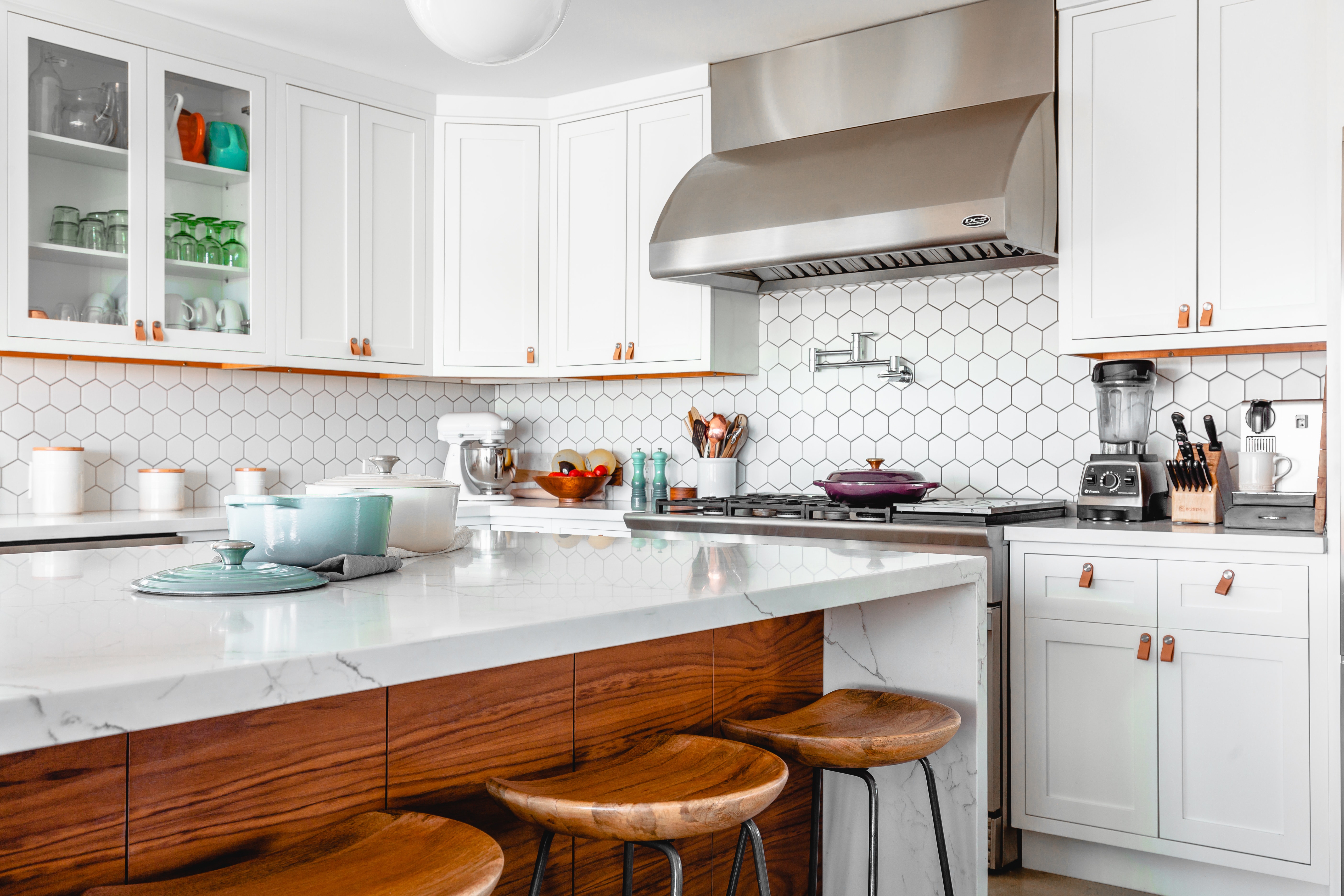 ​​​​​​​Tile
We're moving away from the simple subway tiles and moving towards more interesting shapes, sizes, and colors. Hexagons, diamonds, and all sorts of other shapes are being used in various patterns. Different finishes are also being used; matte is in now too.
Tile isn't just being used on backsplash either. It's being used up walls to make rooms feel bigger or show off some handcrafted tiles.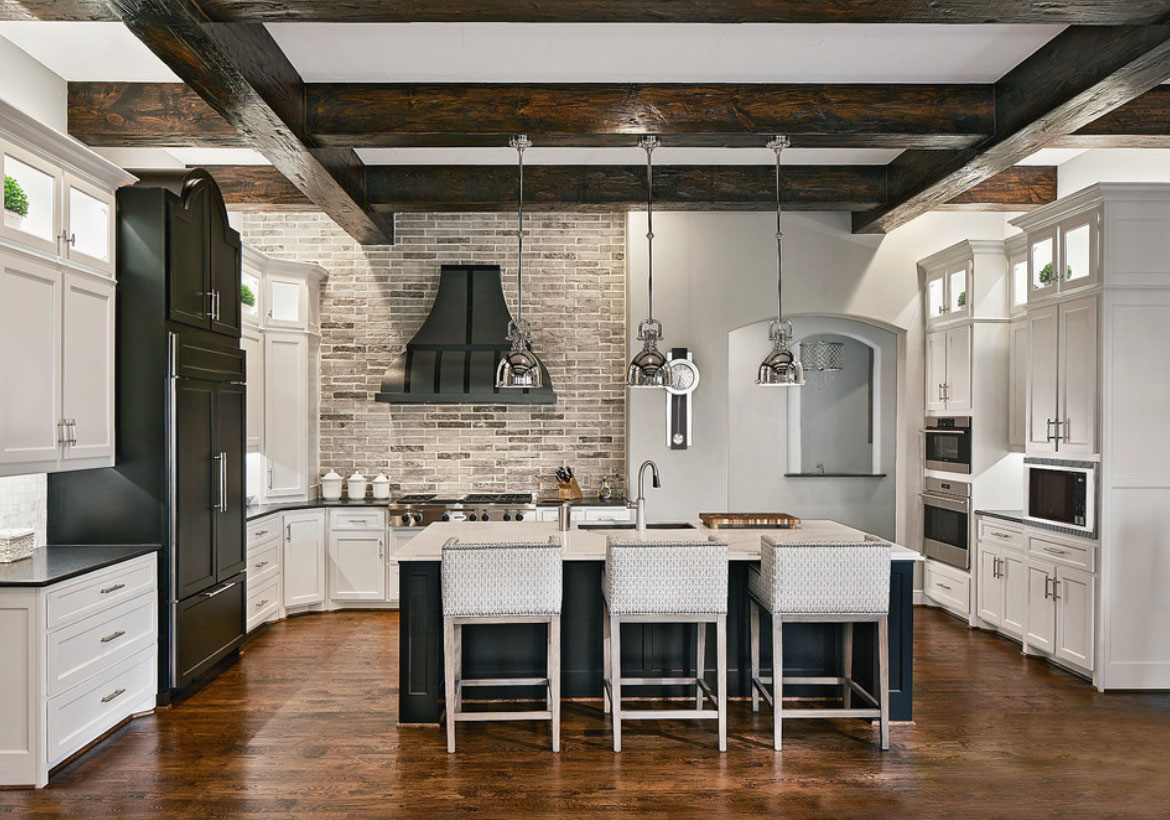 Statement Pieces
Instead of the understated sinks and ventilation hoods, homeowners are wanting to make them more of a feature in their kitchen. Both are ditching their traditional materials and being escalated with darker materials or matte finishes.
Additional Storage
The need for more storage never seems to go away. Because of that pantries are being made more efficient and larger if possible. Well organized and easy to use pantries are becoming super important. They make the homeowner's life easier and stress-free by saving time and money. Pantries are also a great space to hide appliances in and keep the main countertops free of clutter.
Environmental Thinking
It's become more and more popular over the years, but homeowners are trying to be sustainable and efficient when possible. Whether it's thinking of their family, the environment, or both, being environmentally conscious is huge in design.
When thinking about the health of their family, homeowners want more efficient windows to bring fresh air in and flow the not so fresh air out along with requesting low-VOC paints.
When it comes to thinking about the environment, homeowners are leaning towards more natural and/or well-made materials that will last. They're seeing the importance of investing instead of buying cheaper products all the time.
Outdoor Bonus Kitchens
After the year we've had of being stuck indoors, outdoor kitchens are becoming a must-have depending on where you live. There's just something fun about cooking outdoors, usually, you're around your family and enjoying the views of your yard. Outdoor kitchens can range from just a simple grill or smoker to full-on kitchens.
The trends we've outlines above are all inspired by efficiency and putting as little stress on the homeowners as possible. If you are overwhelmed with options please reach out to us and we can connect you with a design expert or make an appointment in one of our showrooms.