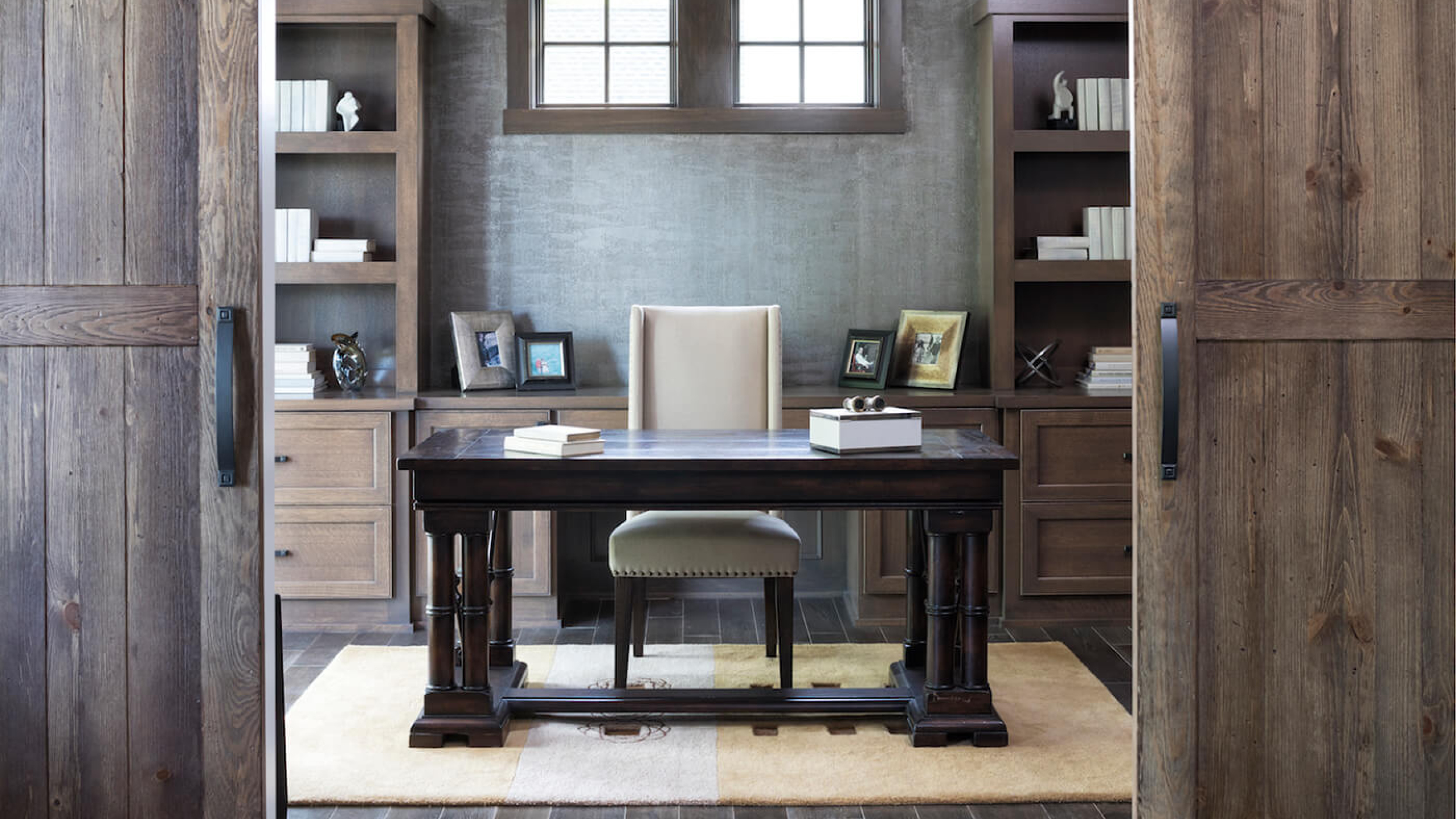 As we all know, working from home has become much more popular now than it ever has been before. A lot of people never would have thought it would have been possible without the outside push that forced a lot of us to try it. And now that we've done it, a lot of companies will choose to keep some of their staff working from home part time even after we are able to get back into the office.
Home office trends
Working from home is a tricky thing to do. People need a space that they can dedicate to focusing on work without interrupting their home lives. This is where design heavily comes into play. With great design, any space can be transformed into a functional home office. A functional space is dependent on colors, layout, style and even lighting.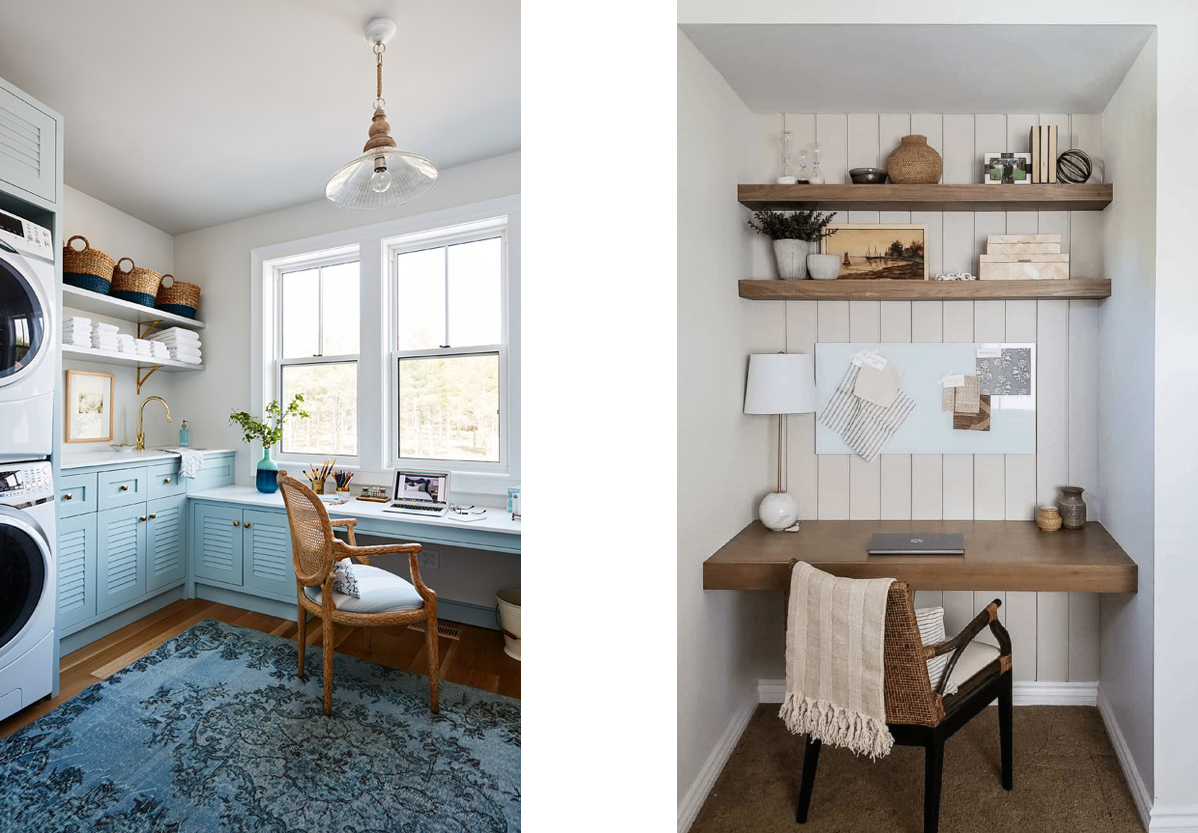 Image curtesy of Stacey Bradford Image curtesy of Wild Flower Home Blog
If you don't have an empty room that you can dedicate solely to being your home office, that's okay you don't need it. Throughout the pandemic, we saw offices being built into any space homeowners could find and not only did it function for them, but they were still able to keep the room aesthetically pleasing. Home offices can fit into almost any room of the home, here are the ones we suggest considering.
Laundry Room

Spare Closet

Guest Bedroom

Master Closet

Master Bedroom

Living Room Nook
Home Office Color Trends
Like we've mentioned before here on the blog, natural tones are going to be huge this year and workspaces are no different. Home offices are a space for focus and productivity so neutral and/or calming color choices are perfect.
Beige

Desert brown

Sage green

Dusty rose

Smoky white

Gray-blue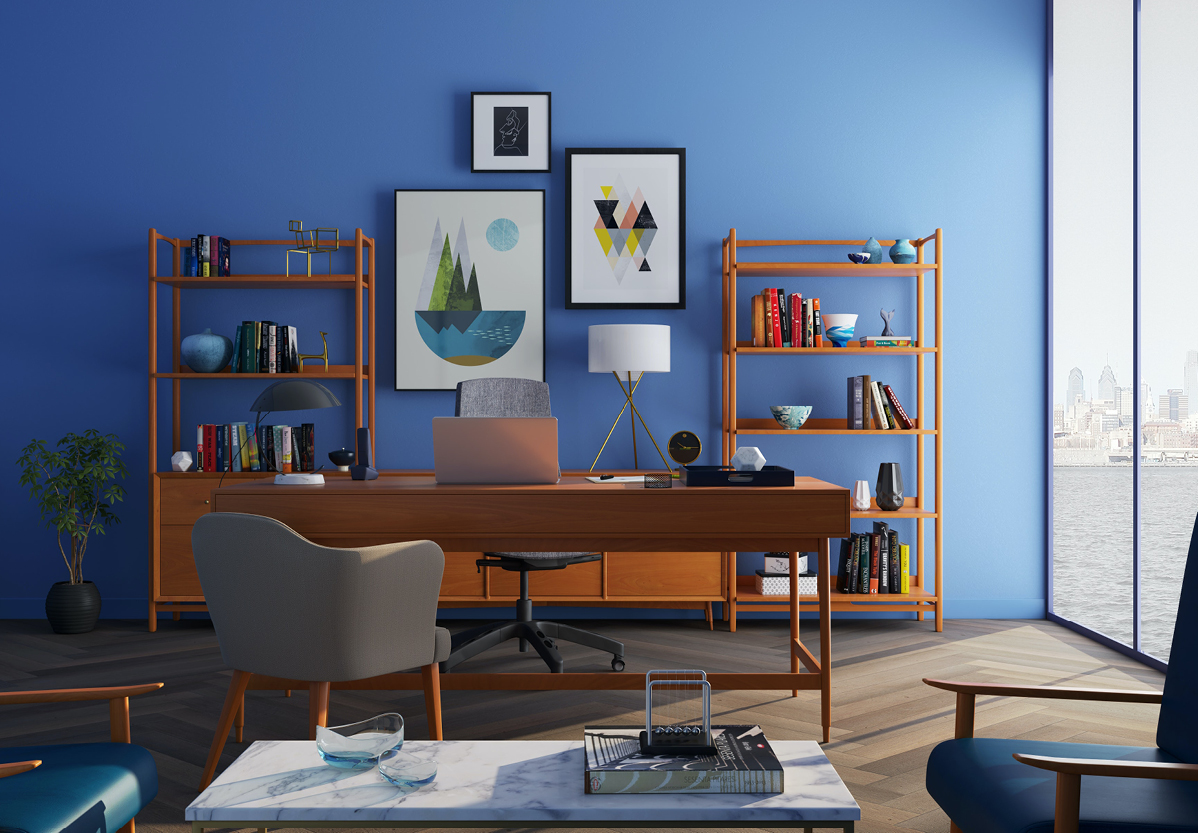 A new consideration of the home office is the background, now that most meetings are happening via zoom, people prefer to have a put together and appealing background. Whether that be a simple painted wall with nice artwork or a built in, with decorated shelves, video call backgrounds are on the top of minds these days.
Home Office Style
Like we stated before, home offices are meant to be a place where you can dedicate your time to work with minimum distractions. Here are the three home office styles we are loving right now!
Scandinavian
Scandinavian inspired offices are showing up everywhere because of that very reason. This style provides clean and functional spaces but still allow for fun and interesting décor. Contrasting colors paired with natural materials will not distract you from your work and put you at ease.
Industrial
Another design style that makes a great home office is Industrial. Like Scandinavian, the Industrial style incorporates natural materials, but a little rougher and raw, such as brickwork, untreated wood, and metal. Accessories are functional and typically have a nod to the past.
Classic
Nothing will ever replace the classic home office. We've all seen them, and they've been around forever for a reason, they are comforting. The intentional and symmetric layout is somewhat predictable, but that's what makes them easy to work in and respectable. Classic offices allow us to play with textures, colors and use great furnishings.
Those are just some of our favorites right now, but any style can be made to work for a home office as long as you keep in mind what the function of the space should be and consider what would work the best for you and your home.
Questions to ask when deciding to put in a home office
Space
Where do you have room for your office? Some people have an extra room or guest room that they can dedicate to an office space, others must fit it in where they can. Think about the noise level of your home throughout the day, will you prefer to have a door to close when you have meetings or just need to focus? Or will you have the home to yourself so an open concept wouldn't bother you?
Will you be needing a lot of storage? Some people can get away with putting their computer on a table and not need much else, but others have files and folders that they need to store and access easily. For those with a lot of paperwork, consider adding a built-in if you have the space, it can really ground your office and streamline your work process.
Design Style
We gave you a few ideas as to what style your home office could be, but those aren't the only options and if they don't fit the design of the home they shouldn't be used. As we talked about in our Creating a Cohesive Home Design blog post, every room should be design with the intention to match the style of the home.
Lighting
Something that should be considered in every room but is easily missed is lighting. Will there be enough light to easily work within the space as it is now, or will you need to bring in additional light sources? Lighting can greatly affect your productivity level. From the color of the light to the amount of light, it must be just right for you to be at the peak of productivity. We function the best in natural light, so working near windows and in natural light is the best option, but if you don't have great access, that's not a big deal you'll just have to choose your artificial light carefully. For optimum focus, light temperatures should be between 3000k-4100k, (anything lower will be too orange and relaxing and anything higher will feel too intense and sterile).