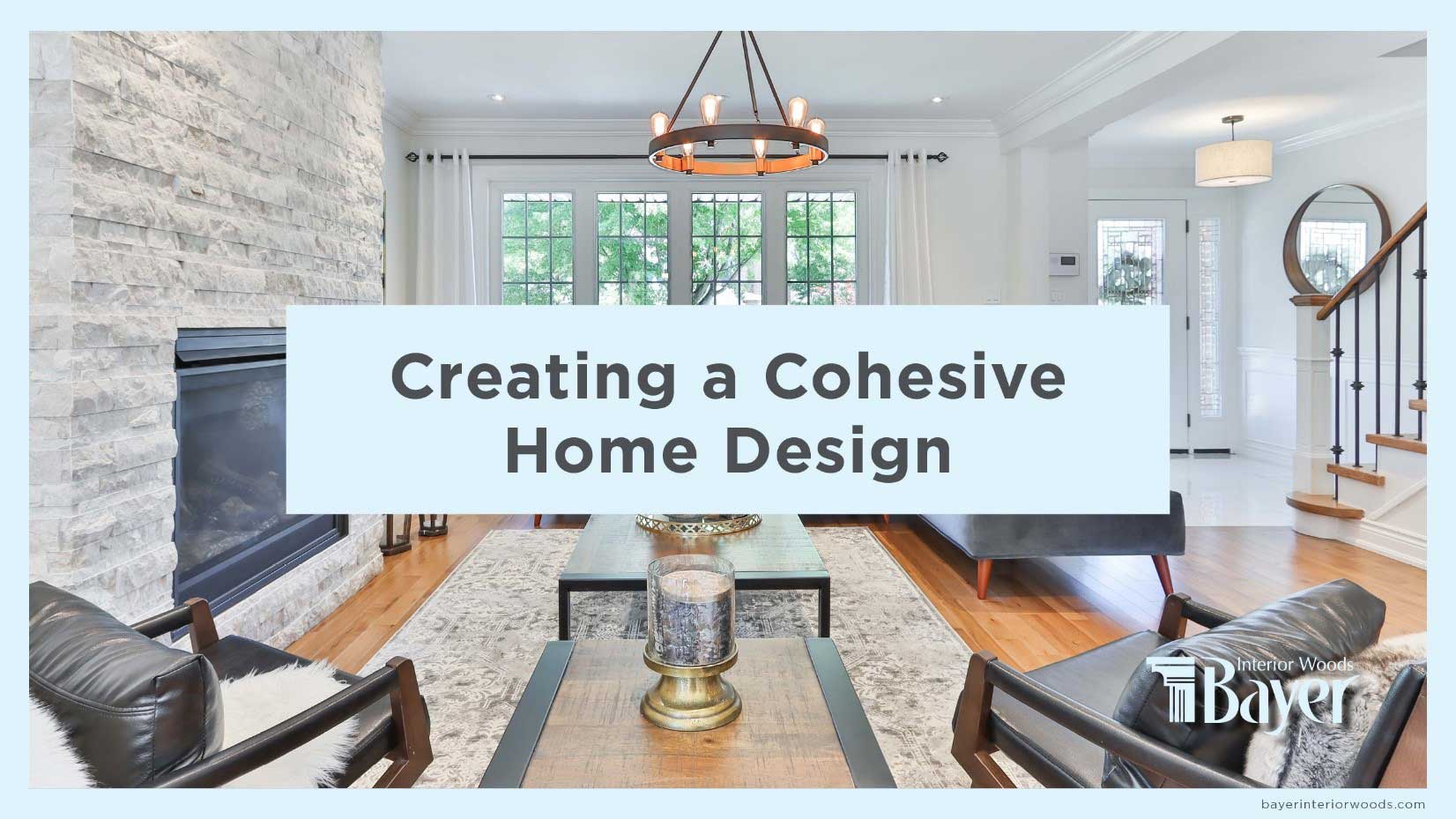 Creating a Cohesive Home Design
A SUMMARY OF THE KBB WEBINAR
When designing and decorating rooms, it's crucial to think about the overall flow and cohesiveness of the entire house. Even if you are only hired to design one room in the entire house, you must keep the rest of the house in mind as you create the space.
Why it's important?
As we all know, home remodeling is a process. Sometimes entire houses need to be remodeled, sometimes just rooms or even sections. Because of that, remodels usually happen in stages.
It's not something that can be completed in a day, whether that be due to simply not having enough time to do so the customer not having it in their budget. Most people can't remodel their entire house at once so a lot of times it takes years to do so. With that being said, it's important to be able to build off their existing structure and style for the room to feel like it belongs in the rest of the home.

A Cohesive Home Keeps the Homeowners Comfortable
The house is already decorated in a certain way because, it's what the homeowner likes, and they have created a comfortable environment for themselves. Discuss their style and think about what the home's current state is as you are planning the remodel.
Also, keep in mind how the homeowner/family will function in the space. What someone pictures in their home might not always work for their every day life. For example, if the homeowner loves the look of waterfall edge island but imagines her kids gathering all around the island for meals, homework and/or game nights, a waterfall edge would get in the way of that, since it makes one side of the island awkward to sit at and therefore hard to utilize. When a room does not function in the way that it should for a family it can make their everyday actions uncomfortable, which may eventually cause them to resent aspects of the design.
The most important thing here is to talk to your clients and ask them questions. They may say they want something, but their understanding could be different from yours or their knowledge might be limited. Ask for visuals or examples and why they might have this on their list for the remodel. You want your design to last as long as possible.
Pay Attention to the Home Itself
Listening to the structural architecture of a home is as important as listening to the people living in it. It's crucial to keep as much character in a home as possible or bring back some of the original character in cases where it's been taken away in a previous remodel. However, if the homeowner is not a huge fan of it, figure out why and try to come to a compromise on how you can keep or add small nods to the original structure without being too much for the homeowner.
How to Create a Cohesive Home Design
Cabinetry, finishes, surfaces, and architecture are all key factors to keep in mind as you are creating a space.
Cabinet profiles and door styles are a great place to start when you want to bring a particular style into the space. Raised panels offer a more traditional feel, while flat and frameless doors can make a space more modern. However, the shaker door style can go both ways, traditional or modern. It can be a very versatile element, depending on what it is paired with and how it's finished.
Finishes can make a significant impact on how cohesive a home will feel. Cabinets, appliances, and fixtures are all available in various finishes. If you mix too many finishes or use gold hardware in the kitchen and silver in the bathrooms, they might feel like two different homes. Keep this in mind as you bring elements into each space of the home. With so many finish options to choose from, it is easy to get carried away if you are not careful. When it comes to appliances, fixtures, and any metal finish, we suggest sticking with one finish throughout the home. However, sometimes two finishes can work, especially when you use contrasting finishes. A trendy design element right now is matte black and that is because it pairs well with others.
Surfaces are another big player for the home. Countertops, flooring, walls, tiles, and backsplash are all wonderful places to add some of the homeowner's personality with nods to other design elements in the house.
Architecture can really make or break the cohesiveness of a home. If the entry way of a home is very traditional, with dark trim and traditional details but then you walk into a bright and white modern kitchen, you will be confused.
The secret to creating a cohesive home design is to make every room feel like it belongs, first to the home itself, then to each of the other rooms. To do this, make sure each room has something that grounds it, this allows you more flexibility in the space. Then take elements from each room and slightly change it before it goes into the next room. Whether that is using the same crown molding detail from the kitchen and adding something like the fireplace in the living room or simply incorporating the same finish on hardware throughout the home.
Design for Those That Will Live in the Space
In the end it is the customers home you are designing. They have put a lot of thought into this so it should be what they have been hoping for. Sometimes customers are easy to deal with and just let you run with whatever you think would best, other times they can be overly opinionated and set on their vision. Which is okay, after all it will be their home and they are the ones that will be spending all their time there.
However, sometimes you will have to be prepared to argue your point and explain why something might not work visually or functionally for their home and family. With any project, the best thing you can do is talk with the customers. Get an idea ahead of time of what they imagine the space to be like and how it will function for them. Get inspiration photos or examples of what they like and why they like those things and work through your process with them.