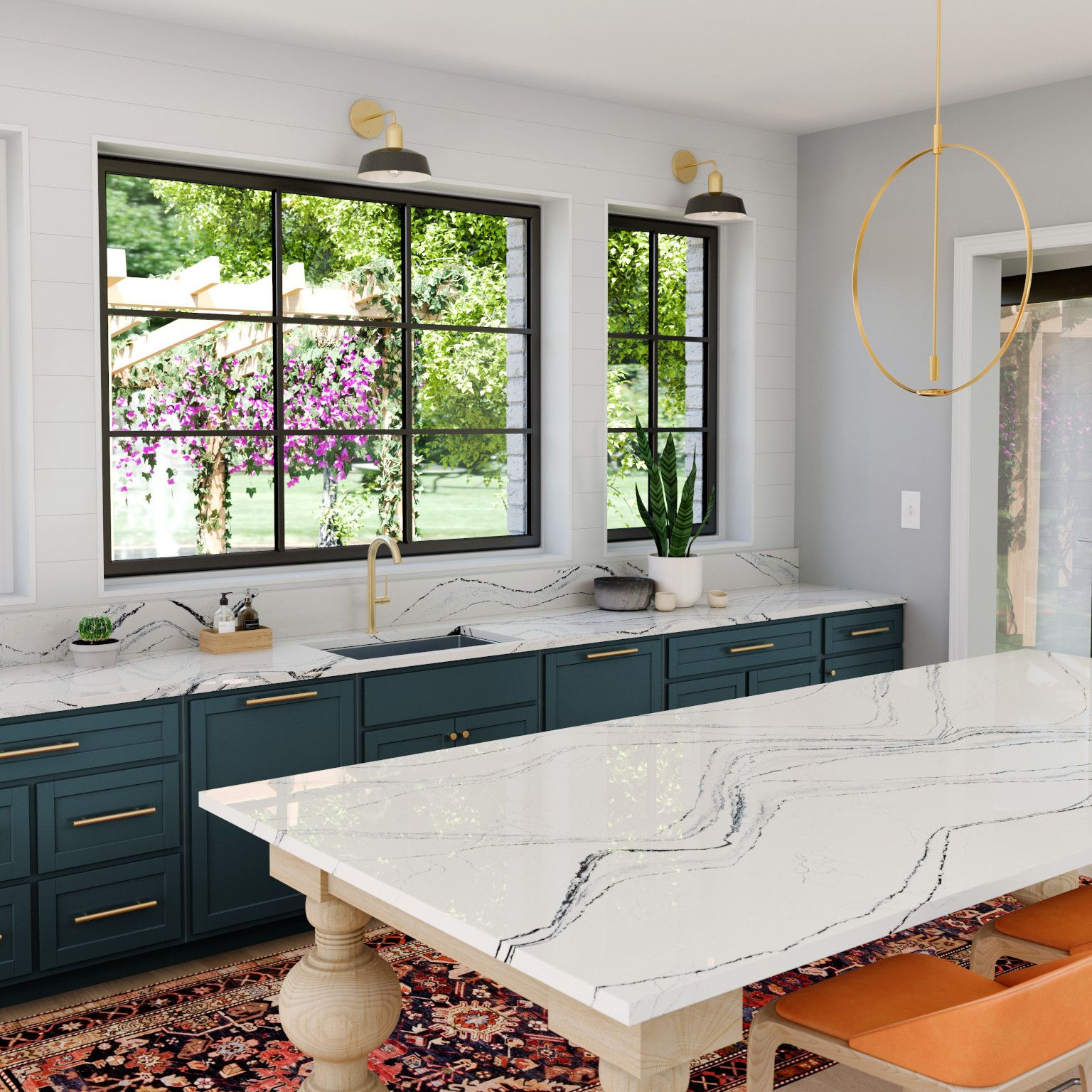 One of the most impressive investments in your kitchen remodel or build are the countertops. Second to cabinetry, the countertops are the most noticeable aspect of the kitchen. It's the area where prep work is done, but also, it's just visually a large part of the kitchen.
With so many different options and finishes, it can be hard to know where to start. Countertops set the tone for the kitchen, it's important to choose something that looks great, fits in your budget, and functions well for the home.

Granite
Granite is a very popular option but doesn't always fit into everyone's budget. It's scratch and heat resistant and requires minimum maintenance. It comes in a variety of colors and forms in a way where no two pieces will be the same.
Along with the price, another con of granite is that it's a porous material so when it's not kept up with, spills could eventually seep in causing stains.

Quartz
Another popular option for countertops is quartz. Quartz is an engineered stone that is more durable and longer-lasting than granite, it's one of the hardest materials out there so you can be sure that it would withstand the everyday use of a kitchen. Since quartz is manufactured, the color and patterns are also manufactured and can be formed in a way that makes them look almost identical to granite or marble.

Marble
A classic option for low-traffic areas is marble. Although marble can be a bit expensive it is a natural stone that comes in a variety of colors and textures. It is a great option for bakers (who prefer to roll out their dough on cool surfaces) and can increase property value.
Some downsides of marble are that it can stain and scratch easily, it can be very heavy, and requires a lot of maintenance as it needs to be resealed annually.

Solid Surface
Solid surface provides a seamless look similar to engineered stones but isn't as stain or scratch resistant. However, it is still durable, and most scratches can be buffed out if desired. Typically coming in a matte finish, it is offered in a variety of patterns and colors and provides a clean and modern look.

Solid Wood
A popular accent option right now is wood countertops. Once stained and sealed wood countertops are heat resistant and sanitary. Although the natural material can add warmth to the space it is less resilient than stone so you will have to be careful and keep up on maintenance. Wood countertops must regularly be sealed to withstand everyday use. However, if scratches do occur, you could always sand the surface and refinish it.

Laminate
Laminate is an easy-to-install and inexpensive option that comes in a large variety of patterns and colors. Although it may be a good quick-fix or cheap update, it may not last as long as you'd like or add as much value to your home as you'd hope. It is fairly durable and easy to maintain.