It's no secret that the world of carpentry is predominately male, that's why at Bayer Interior Woods we are proud to say that we try our best to be as inclusive as possible. As a whole, 31% of our employees are female with 20% of the production team being female. We recognize that this industry might be intimidating to some, so we encourage everyone to see what it's all about and see where they might fit. If a woman is interested in working in the shop, we are more than happy to show her the ropes.
We hope to encourage growth within any role at Bayer. Just because someone starts in one position doesn't mean that that is where they will stay. Many of our current office employees started in production, where they learned the industry and transitioned into a better-suited role for them. Bayer is also fortunate to be able to say that 40% of our leadership roles are filled by females, who help us learn and grow as a company.
Women aren't just making a difference here at Bayer, we recently saw a News Press Now article featuring Nicole Davis. Their article, Female Carpenter Builds Success in Male-Dominated Field highlights Davis and her recent successes as one of the lead carpenters for Van Cleave Construction LLC and some of her own side projects.
Although sometimes people are surprised to see a woman show up to the job site instead of a man, she knows she is capable and pushes herself to learn more skills. She is thankful to have coworkers around her that support her and share their knowledge so she can constantly improve.
With Mother's Day just a few days away, we thought it would be appropriate to use this article to highlight some of the women here at Bayer, who just like Nicole Davis, are making a difference in the industry. From production to the office employees, every role here is important and we couldn't do what we do without them.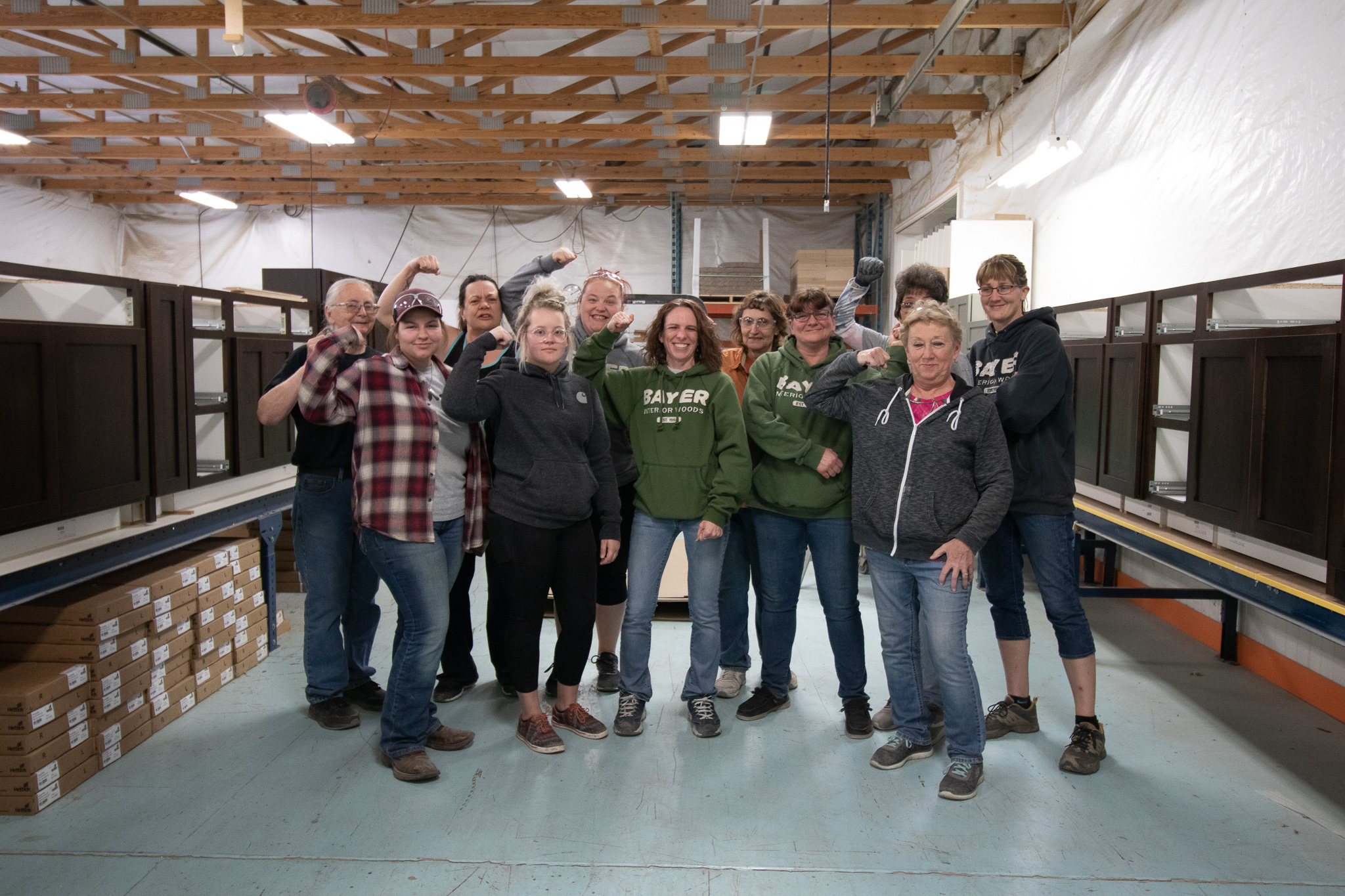 Marylou Theisen – Door Department | Wanda Seifert – Finishing & Assembly Manager | Heather Miller – Team Lead, Door Department
Julie Klaphake – Team Lead, Drawer Box | Robyn Schmidt - Door Department | Deanne Dierkhising - Finishing
Jennifer Miller – Assembly | Jessyca Hill – Finishing | Kari Schultzenberg – Shipping | Hailey Larson – Door Department
Elizabeth Jordan – Door Department
Thank you to all the women at Bayer Interior Woods and other companies who are making a difference and breaking the standards in this male-dominated industry. Your work does not go unnoticed.