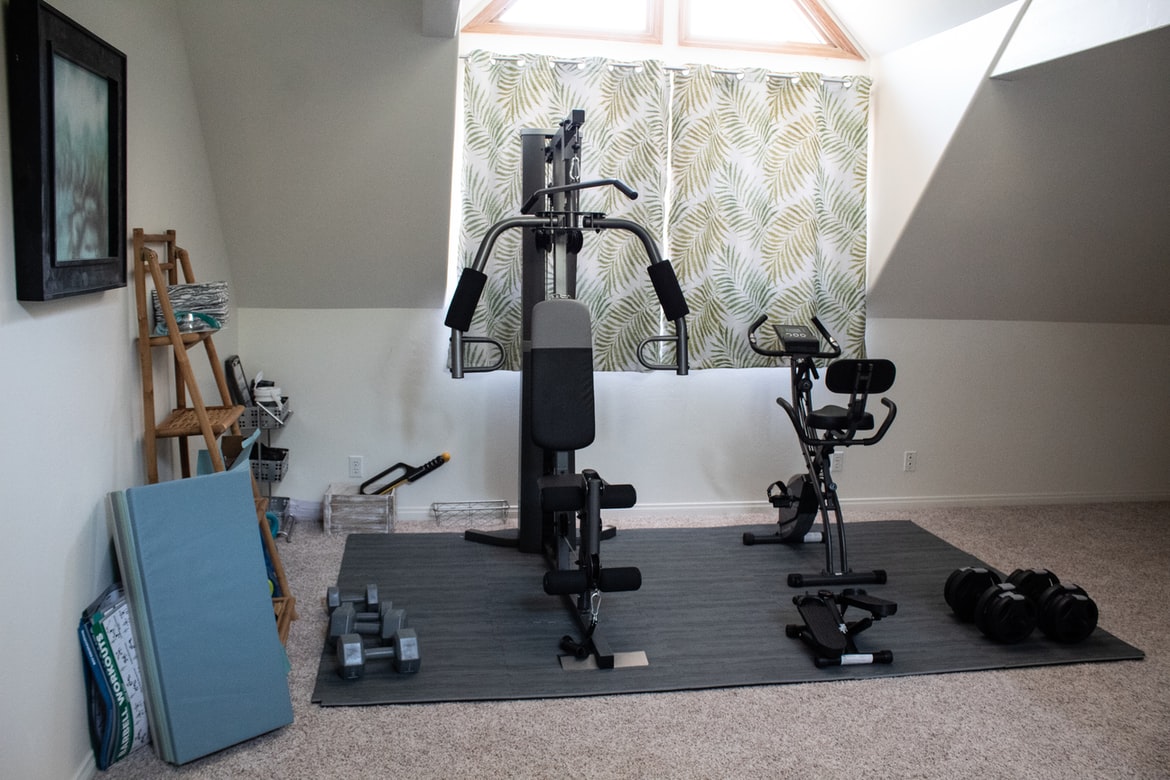 How get your home ready for workouts this winter
Home gyms have become increasingly popular over the years, but more so in the past couple of years. Overall health has become the forefront of most of our lives, we aren't just working out to look better, we're working out to FEEL better. During the summer we're able to get outside, go for walks and try new hobbies, but now that it's getting colder and closer to winter, soon it will be too cold to go outside and harder for us to stay active.
Home gyms come in a wide variety to fit the homeowners needs. They can be anything from a mat that gets rolled out along with some dumbbells or a dedicated room decked out with all the essentials. It all depends on what types of workouts the homeowner is interested in and how much space they can dedicate to their home gym.
Where are They Going in the Home?
If you want a home gym but aren't sure where it would go, here are some common areas that make great home gyms.
Basements
Basements can make great home gyms, most of the time they are unfinished and underutilized. Plus, since they're in the basement, there should be enough separation from yourself and other so you can really focus on your workout without disrupted others in the home.
Guest Bedroom
Let's face it, there probably aren't many guests staying over at your house right now, so why not use that space for something more beneficial?

Garage
Similar to basements, if you have an open spot in your garage this could make for a great home gym.
Attic
Another underutilized spot could be an attic, if you have easy access to it, why not give the space more of a purpose?
Wherever they fit
If you can't designate an entire space for your home gym, don't sweat it, sometimes all you really need is one spot or a corner of a room that allows you to roll a matt out and stretch.
What Makes a Great Home Gym?
Like we said before, everyone's need for a home gym is different and some people can make it work with just a mat. However, for those that want more than that, here are some trends we're seeing for 2022 home gyms.
Color
Gyms are a place to get things done, not a place for distractions. That's why most home gyms tend to be pretty colorless. Black and white or gray are the main colors you'll find in a home gym, sometimes with accents of natural wood or a singular motivating color.

Feature Walls
A great spot to add interest to these black and white spaces is a feature wall. These come in all sorts of styles, but most great gyms have one. Sometimes they feature a motivating quote, or include inspiring photos, other times they utilize brick, wood, or a patterned wallpaper.

Exposed Ceilings
f the home gym is in a space like an unfinished basement don't worry about finishing those ceilings. Exposed ceilings work in a home gym! Maybe the industrial feel is motivating but something about them just works, especially when you paint them black or white.

Let the Light In!
Natural light and big windows are great for every space, it's a natural mood booster and motivator. However, if your home gym has to go in the basement or somewhere where natural light is hard to come by, try to switch the lightbulbs out for some day-light bulbs.

Mirrors
Mirrors are a great addition to any workout space; they are beneficial to your workout and the design of a space. When mirrors are brought into a space, they make a space feel larger and brighter.

Practical Flooring
Flooring is one of the most important pieces to a comfortable gym. Make sure it is something supportive and durable. Black and/or wood patterned rubber and/or foam mats are great for home gyms.

Barndoors
These are a terrific solution to hide the less appealing parts that you might have to build your home gym around, whether that be mechanical equipment or the typical items that are stored in a home. It can also be a great way to hide the gym itself. Barndoors work because they don't take up much space and don't take away from the look of a room.

Storage
Home gyms are full of a variety of things, from equipment to cleaning supplies and more, you'll need something to store all of your things in. Built in cabinets or lockers are the perfect addition to your home gym. A great home gym utilizes the space available and built ins do just that.
Are you looking to make a permanent gym in your home? Hopefully these tips can help make the process easier.